doPDF
Your free PDF creator
About doPDF
Short overview of doPDF
PDF stands for Portable Document Format and it was created by Adobe to ease document exchange. doPDF is a free PDF printer that does what the name suggests, creates PDF files. Once installed it will allow you to convert any type of printable documents to PDF files.
doPDF installs itself as a virtual PDF printer driver so after a successful installation will appear in your Printers and Faxes list and also in the list of All Programs.
With it you can convert your Word documents, Excel sheets, PowerPoint presentations, AutoCad drawings, company's reports, contracts, workflows, agreements, marketing plans, forms, products list, price list, charts, emails or web pages - and basically any type of printable document.
Using doPDF you can convert to PDF in two ways, via the Print option in your document or using the Startup window.
Print to PDF via the virtual printer driver doPDF.
You would do this exactly as you print to a regular printer, just the result will be a PDF file, not a printed piece of paper.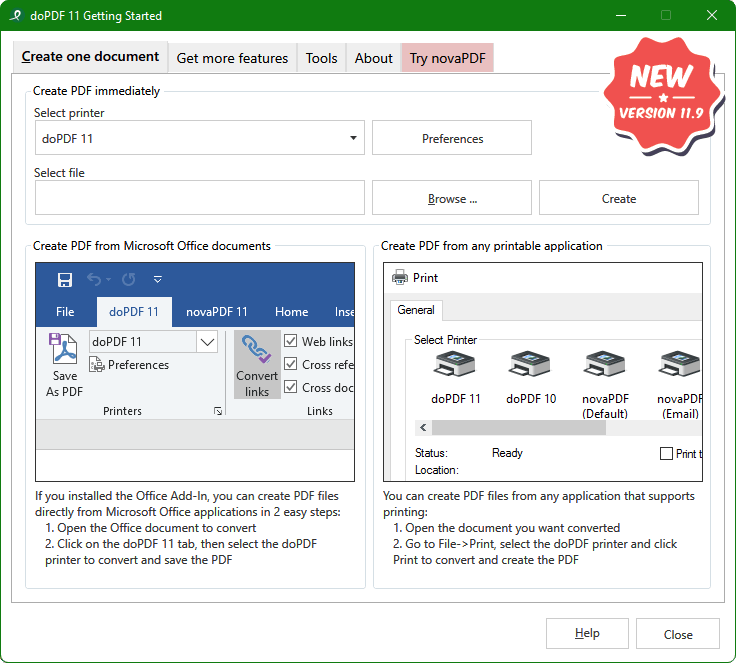 Using the doPDF Startup window.
doPDF has an executable file (accessible from the start program group) that you can run in order to start a conversion wizard.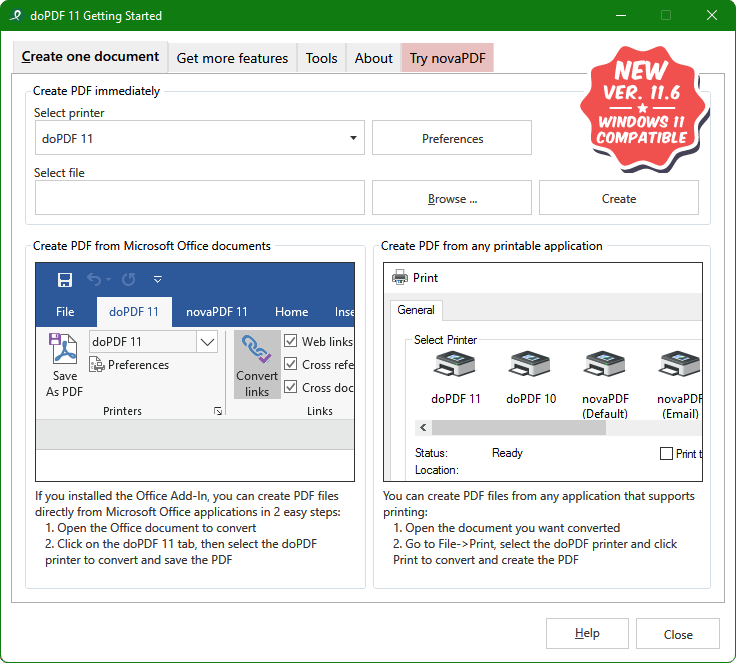 Main Features
What makes doPDF stand from the crowd
E' semplice e veloce
tu selezioni QUALE documento convertire e DOVE salvarlo e doPDF crea il file PDF prima che tu finisca di dire supercalifragilisticospiralidoso.
Risparmia il tuo denaro
doPDF è un convertitore PDF gratuito sia per uso commerciale/affari sia per uso personale. Non ti costerà nulla creare files PDF (but we'll love you even more if you upgrade to novaPDF).
supporto per 32-bit e 64-bit
lo stesso setup può essere usato per installare doPDF su entrambi i sistemi operativi Windows a 32 e 64-bit (e qualsiasi multiplo di 32-bit quando verrà il tempo).
Universale
tu puoi convertire in PDF qualsiasi tipo di documento stampabile (i.e. DOC, XLS, PPT, PUB, DOCX, XLSX, PPTX, PUBX, HTML, TXT,...).
Nessun GhostScript o Adobe Acrobat
non richiede nessun programma di terze parti per creare files PDF come ad esempio GhostScript o ambienti di runtime come il Adobe Acrobat. Questo rende il file di setup incredibilmente piccolo rispetto ad altri programmi creatori di PDF gratuiti.
PDFs Ricercabili
tu puoi ricercare del testo all'interno del file PDF creato (ed i motori di ricerca indicizzeranno anche il testo dal PDF).
Multi-lingua
doPDF è L'UNICO creatore pdf gratuito la cui interfaccia è attualmente disponibile in 33 differenti ed ha un sito web tradotto in 30 lingue (in aumento, grazie ai nostri traduttori).
Usa poche risorse di qualsiasi computer
confrontato con altri software creatori di PDF gratuiti, doPDF usa appena la memoria o altre risorse della CPU mentre esegue la conversione in PDF.
Fai la tua parte nel salvare il pianeta
invece di consumare carta per stampare i tuoi documenti, perchè non creare un file PDF e risparmiare una coppia di alberi salva-pianeta?
Dimensione pagina Predefinita
tu puoi selezionare una dimensione pagina predefinita per il file PDF risultante come: A4, A5, A6, Letter, Legal, Executive, Envelope DL/C5/B5/Monarch/#10.
Dimensione pagina Personalizzata
se tu necessiti di più personalizzazioni in termini di dimensione pagina PDF, tu puoi definire la tua dimensione personalizzata per il documento risultante digitando la larghezza ed altezza desiderati (puoi creare documenti piccoli come 10x10 millimetri, o grandi come 3276x3276 millimetri).
Unità di misura
tu puoi scegliere di avere tutte le misure visualizzate in millimetri, pollici o punti, in questo modo non devi fare alcuna conversione da te stesso.
Risoluzione grafica
tu puoi impostare una risoluzione personalizzata per le immagini da 72 e 2400 dpi. Una risoluzione più piccola comporterà un file PDF più piccolo, ma con una minore qualità delle immagini, mentre una resoluzione più alta significa una miglior qualità delle immagini, ma un file PDF più grande. Il valore standard è 300 dpi.
Scalatura grafica
il contenuto del PDF risultante può essere ridotto all' 1% della grandezza originaria, oppure espanso fino al 400%.
Orientamento della pagina
Semplicemente imposta l'orientamento della pagina per essere Landscape o Portrait, le variazioni sono visibili nell'area Anteprima.
Usa sempre questa cartella
Tu puoi impostare che doPDF crei salvi il file PDF ogni volta nella stessa cartella, indipendentemente da dove apri il documento originario.
Inserisci i subsets dei font
Per assicurare il file PDF risultante sembri esattamente all'originale, doPDF inserisce automaticamente il subsets di font utilizzati nel documento originale.
Apri con PDF reader
Tu puoi scegliere di aprire il PDF con il lettore di PDF predefinito una volta convertito.